HomeVestors Reviews
We Buy All Kinds Of Houses- No Matter The Condition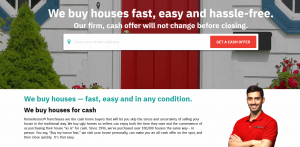 Have you ever wondered if anyone would buy your house? You don't need to search any more. HomeVestors, which most know as "We Buy Ugly Houses", will buy your house, no hassle. The process is fast and easy and pays in cash. Since 1996, we have purchased over 100,000 houses in cash and are now the #1 in the country. HomeVestors will give you cash for your home. We love to buy houses and give what is deserved, nothing less.
We have the experience you need. When we say hassle-free, we mean it. Throughout the years we have been in business, we have streamlined the process to perfection. We understand the importance of giving sellers a quick and easy selling process. Our proven method to deliver on that promise has never been easier. We can buy the property fast and in cash. The transaction will be seamless starting with a trusted buyer in person to answer questions or concerns and an easy walk through the entire process. The closing follows that seamless process, starting and ending with a fast and easy transaction. We would love to buy your ugly house!

Although there are many companies that buy homes, there is only room for America's #1 and this is HomeVestors. HomeVestors is #1 for being reputable and trustworthy. You can always trust that HomeVestors will make a firm cash offer that we can assure you will not change before closing. Other companies can not assure the same. Being #1 also means that you can trust that the process will be easy for you. We have the experience you need. We've bought 100,000 homes and with our experience we have overcome tax liens, probate, second mortgages, inherited homes, mostly anything that could possibly come up. We know how to deal with just about every possible situation. We are the top in the country for following through on our promise of experience, the trustworthiness, and fast and easy processes.
You need peace of mind and we can give you that with an unwavering and unchanging offer. We also offer a trusted, experienced, and local buyer who will be there every step of the way. You don't need to make changes to your home, we will buy it as-is. Other companies can not offer that same freedom of no worry, no stress and no anxiety as you sell your house.
A multifaceted company. HomeVestors is not just a great way to sell a house, it's also for buyers. You can also buy homes at HomeVestors. If you're interested in becoming a franchisee, contact us today!
A franchise with HomeVestors gives you a nationally known brand and system that already works. With over 1,000 franchisees, our methods have proven themselves successful. It can be life changing freedom for operating your very own business.